Fiddle Course with Charlie Mckerron: beginning 07 November 2023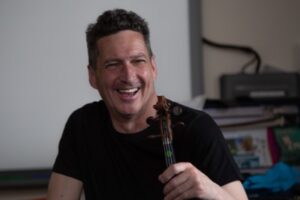 Classes will run for an hour and a half through Zoom from 7:00pm to 8:30pm on Tuesdays over eight consecutive weeks.
We are delighted to offer an opportunity for our fiddle-playing community to come together online on Tuesday evenings with one of our regular tutors, Charlie Mckerron who was named "Music Tutor of the Year" in the MG ALBA Scots Trad Music Awards 2022. With a mixture of tunes, some old and some new, we look forward to bringing you together on-screen from the comfort of your own home. Tunes will be taught by ear, and music will be provided afterwards.
These sessions will be suitable for intermediate players and above. If you have any questions about ability or difficulties with learning by ear, please get in touch with us at .
As this course will be delivered via Zoom and participants will be muted whilst playing, it is open to any instrument.
* Although this course has been scheduled to run consecutively for these 8 weeks, please be aware that some classes could be rescheduled due to Charlie's performance commitments, but students will be informed in advance. *

About Charlie
Charlie Mckerron has been a major figure in the traditional music scene since the early 1980s and is internationally regarded as one of Scotland's finest fiddlers. He is a key member of the highly successful Capercaillie, but has collaborated with many other musicians and played with other noted bands such as Session A9 (who will be returning to Sabhal Mòr Ostaig for a short course in April 2024).  Charlie was brought up with the northeast fiddle tradition, learning from his father and great-uncle, but has immersed himself in the Gaelic tradition with Capercaillie, and in doing so has helped to bring this music to high acclaim on the international stage.