Learning through Living Culture in Flodigarry: 21 August 2023
START: 21 August 2023
END: 25 August 2023
COST: £310
COST (STUDENT): £220
BOOK NOW
---
In partnership with Sabhal Mòr Ostaig, Ionad Thròndairnis Trust is offering this distinctive community-based course, "Learning through Living Culture in Flodigarry", this summer. This five-day residential course is run by a mixture of tutors and contributors and includes outdoor learning, music tutorials and workshops. Over 100 participants have taken part in this exceptional course to date.
The course is designed for fluent speakers and advanced learners (e.g., Level 6 or above of Sabhal Mòr Ostaig's Gaelic courses) who wish to improve their oral and literary skills, as well as deepen their knowledge of Gaelic literature, history, culture and music in the heart of a thriving Gaelic community in North Skye.
This course is a unique immersion experience for learners who seek to reach fluency in their studies or profession, as well as for those who wish to reach fluency for personal development.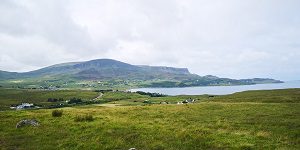 The week will include visits to sites of special historical and cultural interest in the Trotternish peninsula, where the students will have the opportunity to learn from local people who are specialists in subjects such as palaeontology, poetry and placenames of North Skye, to give just a few examples. The course will be conducted in Gaelic and gives the special chance to meet local people who are happy to share a deep knowledge of their area, spoken in the Gaelic of their community.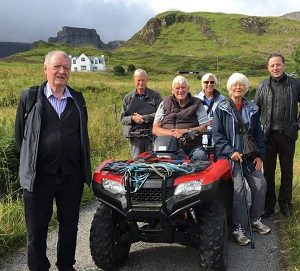 The course will be based in Columba 1400 in Staffin, where workshops will be held on Gaelic idiom and dialect, place-names and vocabulary of the local area.
As usual, the price of the course includes dinner from Monday to Thursday, prepared by the generous Flodigarry community.
Timetable and attendance details
The course will officially start with registration on Monday morning at 10.00, but we recommend that students arrive in Flodigarry on Sunday evening before the course begins. The formal course is due to finish around 13.00 on Friday. There are limited places available on the course and as such it is recommended that you book your place now!
Accommodation
There is accommodation available in the Dun Flodigarry Hostel, which is very comfortable and immaculately kept. In order to book your accommodation, you should contact Dun Flodigarry Hostel directly on 01470 552 212. Their website is: flodigarry-hostel.scot.
The following places offer bed and breakfast locally and all are Gaelic-speaking households. Please mention that you are attending the Flodigarry course:
Anne MacLeod, Ben View, Clachan – 01470 562319 – available through Booking.com
Joan Beaton 4, Flodigarry – 01470 552308
Here is a list of self-catering properties in the local area:
Donna MacDonald, Quiraing View, 5 Digg – 01470 562388 (s/c flat)
Peggy Scott-Moncrieff, Seascape, Flodigarry – 01470 552233 (s/c chalet) (Book through http://www.cottages.com)
Joanna MacLeod, 10 Clachan – 01470 562434 (s/c chalet)
Keeper's Cottage, Staffin – https://www.ihcottages.com/property/
Beinn Edra House (B&B and S/C) – 01470 562461 https://www.valtosskye.co.uk
Quiraing House – https://www.theoldinnstaffin.co.uk/quiraing-house.html
The Old Inn- https://theoldinnstaffin.co.uk
Taste of the Sea – https://www.skyeservicedaccommodation.co.uk/en/rentals/209634-taste-of-the-sea-on-skye
Driftwood Cottage – https://www.driftwoodcottageskye.co.uk
Brogaig Cottages – https://www.brogaig-cottages.co.uk
The Bridge Self-catering, Kilmaluag – https://north-skye-bed-breakfast.uk
Tigh Anndra – https://www.ihcottages.com
Staffin Campsite, Grenicle, Staffin – 01470562213 http://www.staffincampsite.co.uk
Staffin Bay View, Sartle, Staffin – https://www.skyestays.co.uk
Mr and Mrs Munro, 8 Hungladder, Kilmuir – 01470 552331
Flodigarry Pods – 01470 552308 https://flodigarry-pods.uk
Clothing
Attendees are strongly advised to bring warm and waterproof clothing and good, robust walking boots for the walks and outdoor talks in the local area.
Entry requirements
No previous knowledge or experience of community involvement is required, but a reasonable level of fluency in Gaelic is essential in order to follow the course content. For further information, please contact the Short Courses Team on 01471 888 246, or email .
Covid Regulations
Please note that all of the information provided here is subject to change according to Covid regulations, and that at all times we will follow recommended Covid protection measures.