Yoga for Duolingo Gaelic Learners Online – Autumn / Winter 2022
START: 22 November 2022
END: 15 December 2022
COST: £20
COST (STUDENT): £20
BOOK NOW
---
Are you learning Gaelic with Duolingo? Put those new words into practice! Janni will take you through some gentle stretching and exercises using simple words and phrases, at your pace.
This block of classes will run twice weekly via Zoom on Tuesday evenings 20:00 – 20:30 and Thursday mornings 08:00 – 08:30 from 22/11/22 – 15/12/22, and you may attend either or both each week.
In this gentle exercise class, we will practice a mix of yoga and Pilates exercises to strengthen and stretch our body in a healthy way. This class will be bilingual, suitable for the level of Duolingo Gaelic learners. Please wear comfortable and loose clothing and take off your shoes and socks. If you have a yoga mat, that would be useful. Otherwise, a rug is fine. If you have any existing medical conditions, please ensure that your doctor agrees that yoga is good for you.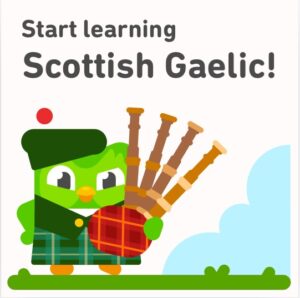 Sabhal Mòr Ostaig, the National Centre for Gaelic Language and Culture, is in partnership with Duolingo delivering the Duolingo app's popular Scottish Gaelic language course to over 1.1 Million Scottish Gaelic Duolingo learners.