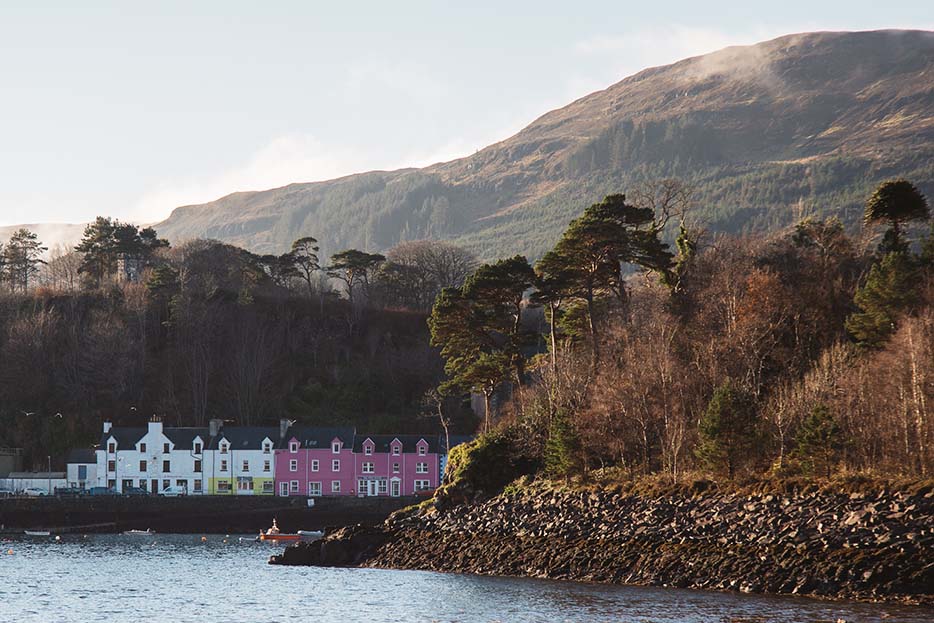 Chaidh Port Rìgh ainmeachadh mar aon de na bailtean as brèagha san Rìoghachd Aonaichte a rèir Conde Nast Traveler. Tha cuid a' cumail a-mach gun d' fhuair am baile ainm às dèidh do Rìgh Seumas V tadhal anns an 16mh linn, ach tha beachd eile ann gur ann às a' Ghàidhlig ruighe 'leathad' a thàinig an t-ainm.
Tha ainmean àite luachmhor agus nam pàirt chudthromach dhar n-eachdraidh agus dhar n-àrainneachd. Seo sgeulachd bheag bhon leabhar aig Roger Hutchinson 'Gealach an Fhàis – Ùr-bheòthachadh na Gàidhlig'/'A Waxing Moon – The Modern Gaelic Revival' mun strì a bha aig am fear a stèidhiche Sabhal Mòr Ostaig, Sir Iain Noble, airson soidhne rathaid Gàidhlig fhaighinn ann am Port Rìgh air ais ann an 1973:
"Inverness County Council wished to improve the road which entered Portree from the south. In order to do this, they required some of Noble's new land. Noble agreed to give, rather than sell, the council the small amount of turf required if they would in their turn agree to erect three bilingual road signs upon it. One would signify Viewfield Road, another the nearby High School, and the third the town itself, with the Gaelic version, Port Rìgh, slightly larger than the English in Portree.
"He was informed that bilingual signs did not accord with council policy. At the full council meeting at Inverness in March 1973 to discuss the matter, two island representatives, one from North Uist and one from Barra, spoke in favour of Iain Noble's suggestion. But the chairman of the Roads Committee was Lord Burton of Dochfour, the proprietor of 11,000 acres by Loch Ness and a large chunk of Glen Shiel, a stalwart of the Scottish landowning community… Lord Burton insisted upon rejecting even a few 'experimental' bilingual road signs because: 'It does become a matter of principle. If it raises itself in Viewfield Road, it might raise itself throughout the whole of Skye.' Burton's roads surveyor, Keith MacFarlane, dutifully agreed: 'We would have to put them all the way back to Kyleakin. Signs are meant to be confirmatory, not to confuse people.'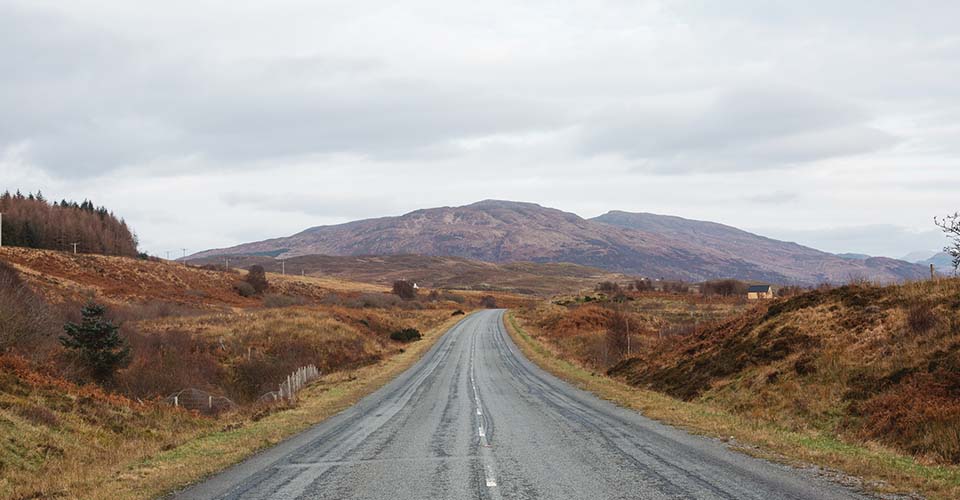 "Thus began, with a whiff of grapeshot over a tiny scheme on the outskirts of Portree, the great Highland road signs controversy which would run for a further three decades.
"Noble refused to relent. Extraordinarily, he persuaded a cross section of the great and the good of Skye to sign a petition supporting bilingual signage on the southern approaches to Portree. The Free Presbyterian minister to Staffin, the Church of Scotland minister to Kilmuir and the Free Church minister to Sleat all joined hands with such dignitaries as the north Skye GP Dr Calum 'Òg' MacRae, the procurator-fiscal Donald Macmillan, the Broadford garage-owner and country councillor Angus Sutherland, the headmasters of Portree, Staffin and Dunvegan schools, a selection of local businessmen, and the two most celebrated residents of Viewfield Road itself, local businessman Ewan MacKenzie and popular champion of all things Skye Colonel Jock MacDonald. This coalition of Skye's eminent, educated and professional Gaels wrote to Inverness County Council in April 1973:
'to express our wholehearted support for the proposal that road signs should be in Gaelic or where appropriate bilingual throughout Skye. So far, no good reasons have been advanced for not doing this. On the contrary, we would regard it as a matter of common courtesy in a Gaelic speaking community. It is based on a principle that has already been accepted by the government in Wales and it has been adopted in most other parts of the world where there are bilingual communities. Far from causing confusion these signs would add interest for visitors… We therefore request the County Council to reconsider their decision.'
"…Following the supportive letter about Gaelic road signs, confusion reigned in Inverness County Council. Deputations from the seat of local government were dispatched to Noble's headquarters at Eilean Iarmain in Skye. Compromises were mooted and announced – and promptly denied by both sides. The two landowners, Noble and Burton, communicated by telephone. Iain Noble told the press:
'He said my attitude was holding up the road and that the cost to the county would rise by up to £20,000 as a result. I told him I was surprised he was prepared to consider such a price in order to prevent five words of Gaelic from appearing in public. Lord Burton seemed agitated.'
"Lord Burton was indeed agitated. The matter of the Portree signs would finally be resolved early in May 1973, just four weeks after it blew up. 'Portree' would be accompanied on the road signs immediately to the south of the village by 'Port Rìgh'. 'Viewfield Road' would also be 'Goirtean na Creige'. Iain Noble temporarily withdrew his request for the school to be labelled as 'an Sgoil', accepting in return a single bilingual sign recognising the south Skye township of Broadford as An t-Àth Leathann.'
d.115-117 A Waxing Moon – The Modern Gaelic Revival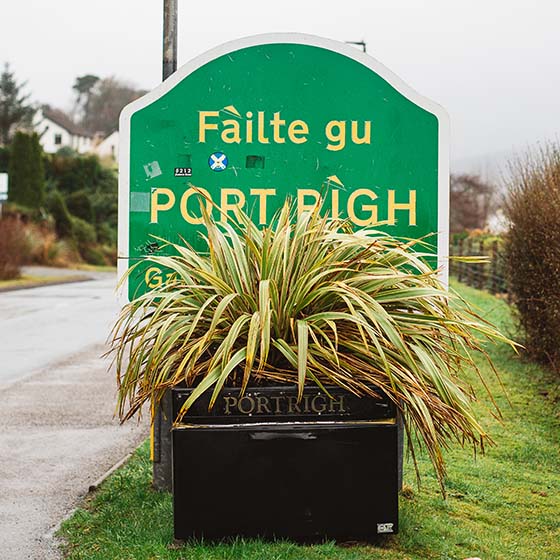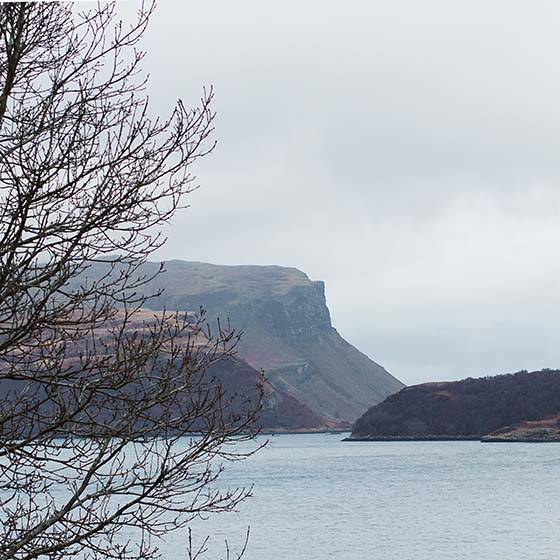 Leis a sin, cumaidh sinn oirnn a' coimhead air #ainmeanàite ('An t-Àth Leathann' nam measg) air na meadhanan sòisealta. A bheil #ainmeanàite eile a bu mhath leat faighinn a-mach mu dheidhinn? Leig fios dhuinn air: margaideachd@smo.uhi.ac.uk
Taing mhòr dhan ùghdar Roger Hutchison airson cead a thoirt dhuinn earrann bhon leabhar sgoinneil aige 'A Waxing Moon – The Modern Gaelic Revival' a chleachdadh. Mholamaid dha duine sam bith e, gu sònraichte ma tha ùidh agad ann an eachdraidh an t-Sabhail agus anns a' Ghàidhlig.